I don't recall if I've mentioned it on here, but I am halfway through my first quilting bee! I joined We Bee Learning back in January. It's for beginners, which I still sort of am, so the blocks are supposed to be on the easier side, which fortunately they have been. As it turns out, though, I am TERRIBLE at getting blocks mailed off on time... :( but here they all are!
1. 2012-02-10_23-16-40_669, 2. DSCN3995, 3. DSCN4807, 4. DSCN5055, 5. DSCN50546. Not available
January's block was a framed pinwheel in any color scheme we wanted.
February's block was a log cabin from the Skill Builder Sampler Quilt-Along in a girly color scheme (yay, pink!) with the center square black. (I wasn't sure how this was going to look, but it turned out REALLY cool!)
March's block was the Starflower block posted by Ellison Lane Quilts. This actually creates two blocks, and I went ahead and sent both because mine were a month and a half late and I felt REALLY bad!
April's block (not pictured) was a wonky log cabin in shades of green, blue, and purple. This was the first time I'd made ANYTHING wonky, as I don't really like the way it looks... but it certainly was fun to make!
May's block (another super late one, I just mailed it out today) was a bow tie block that was themed in some way. I wanted to do something cooler/more imaginative, but polka dots were the only fabrics I had 4 of and I'm trying REALLY hard not to buy more fabric for bee blocks.
June's block was a churn dash in 1930s reproduction fabrics--had to go buy a FQ of these, as I have NOTHING in my stash that remotely qualifies!
I'm enjoying this bee, as I'm definitely getting a little bit out of my comfort zone, but not too much and I don't have to feel inadequate if my blocks aren't perfect.
Next up: I'm participating in my second round of the Bowtie Block Swap on Flickr. The goal: make many, many, many scrappy bow tie blocks, mail them to the swap mama, and receive back many different blocks. Here are the blocks I received in my first round of the swap:
and here are the blocks I've made so far for this round.
My goal is a total of at LEAST 100, but I would prefer 120 as I don't really want a square quilt. I'm planning to form an X design radiating out from the center. I think it'll look great... eventually.
I'm also participating in the Granny Gone Wild swap! We're swapping granny square blocks in a rainbow of colors. Unfortunately, I started out by cutting approximately 1 million 2.5" squares... and THEN realized that there's a strip piecing tutorial! Most of my blocks have been strip-pieced. I've got 5 more to make before I've got the 20 I signed up for. I'm also keeping one of each color scheme for myself, so my goal is to have 30 total--20 from the swap and 10 made by me.
The 15 blocks made thus far.
(The first two are strip pieced, and the bottom two are pieced from squares.)
I decided not to trim these before mailing. The ones I've trimmed so far (that I'm keeping) have wound up a tiny bit too small, and I'd rather leave that to the recipient to decide a course of action. They're supposed to wind up 9 1/8 inches, but I may end up trimming mine to 9" even. We'll see.
Last on the list of blocks... I'm a member of a great group on Flickr called Quilting for Kids. Quilters donate blocks that will be made into quilts for children in foster care. I mailed off blocks today that will be going to two different kids.
For this one, we were asked to make gender-neutral block-in-blocks, finishing at 12.5" square. I used the tutorial for bento blocks from Film in the Fridge, with modified strip sizes as given by the Scrappy Bowtie Block group.
The second quilt is an I Spy charm quilt for a 5-year-old boy. We were asked to use this tutorial by Katie (Swim, Bike, Quilt) on Moda Bake Shop. I had SO many charms that would work, so I actually made 3 blocks!
I don't know why i never noticed this tutorial before, but I will DEFINITELY be using it to make quilts for 100 Quilts for Kids this summer.
Finally--I am participating in the Let's Get Acquainted Blog Hop!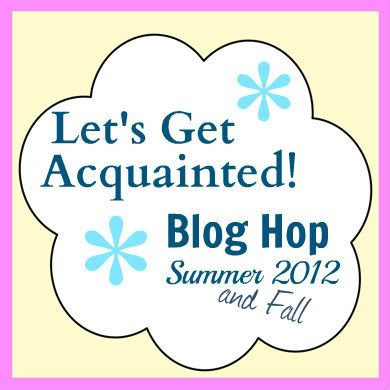 This is a hop for quilting blogs that have been active for two years or less. I definitely qualify! My date is not until August 7, but I want to encourage all of you who read this to go check out some of the cool stuff people are posting!
Now that I've been sewing dozens of blocks, it's time to get some actual work done (boooo) and try to finish up the TWO quilts I'm hoping to finish by June 30!