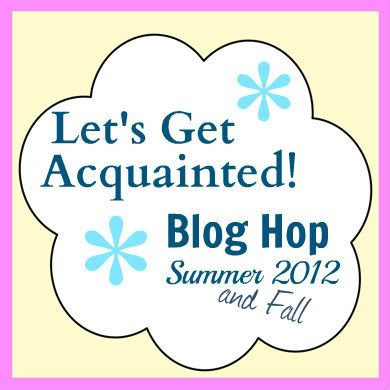 Hi everyone! So glad to welcome you to my little blog. I started this blog a little over a year ago to chronicle my quilting endeavors. I don't post very often, unfortunately, but hopefully you will stick around anyway! :) 
So here's a little bit about me:
I am 26 years old (actually, 27 on Thursday!) and I live in Tallahassee, FL. I've been married for just over 4 years and we have two dogs, but no kids (yet!). My blog is called What I Did on my Summer Vacation because I'm a high school teacher and the vast majority of my quilting and crafting gets done on my summer vacation! Specifically, I teach high school math, and also coach my school's math team, which I love doing. 
Here's some more info about me, from the questions Beth posted:
- How long have you been quilting? 
I've been quilting since March of 2011. I made my first quilt top over my spring break in a single day (Sunkissed Squares from Moda Bake Shop--the small version) and I was hooked!
       - Favorite quilting tip(s)
Use starch to help with piecing! It keeps stuff nice and neatly in place.
       - Favorite blogging tip(s)
I don't really have one… I guess be yourself? Don't worry about being like the other super-famous quilting bloggers. But also, be social and participate in link parties and quiltalongs and stuff.
       - Favorite fabric (or wish list fabric)
Ummm… all of them?? I love love love Loulouthi, and I also really want to get ahold of some Domestic Bliss. I also think all of the Dr. Seuss fabrics are absolutely adorable!
       - Favorite craft book
I don't really have one. I would definitely like to get both of Elizabeth Hartman's books (Mom, are you reading this?? :)) but haven't picked them up yet.
       - Favorite book (or book you are currently reading)
So I read about 4 books a week… and it's pretty impossible to pick a favorite. I have a whole pile of books listed in a separate tab at the top. But a series that both my husband and I are enjoying right now are the
Rivers of London
books by Ben Aaronovitch--it's a British police procedural where the main character also does magic. There are three in the series currently, and I'm looking forward to the next one! I also love the Hunger Games books and pretty much any chick lit.
       - Favorite children's book
The Phantom Tollbooth!
       - Favorite quilting tool
I feel like saying my rotary cutter or sewing machine is kind of lame… (even though my rotary cutter is pretty and purple) so I'm going to say my 6" by 24" ruler, which I bought at my local Joann's, managed to leave at the checkout counter, realized it when I got home, stupidly FORGOT to call them and let them know I'd left it, went out of town, then finally, a month later, went to Joann's and they still had it there for me (or at least for a random customer who paid for it and left it there). And we were reunited. :)
       - Favorite music to listen to while quilting
I generally listen to NPR while quilting, especially during the day on weekdays (it helps me keep track of the passing time). If not, I'm listening to embarrassing pop music on Pandora (Call Me Maybe and anything by Ke$ha are particular guilty pleasures).
       - Favorite TV show while hand stitching
I don't really do much hand stitching… but current favorite TV shows are So You Think You Can Dance, Breaking Bad, Burn Notice, Parks and Recreation, and Bunheads.
       - Binding - by hand or by machine?
By machine--I hate hand stitching and I'm terrible at it!
       - If I'd only known - what you wish you knew about blogging before you started your blog
Blogging takes a LONG time! Especially if you're a good blogger and make your posts interesting with pictures and stuff. :)
For my project: I actually finished this about a month ago, took the pictures, and gave it to the recipient, but haven't gotten around to blogging about it yet! I finished two quilts in the space of two days, and only managed to post about one of them (my Across the Sea quilt. 
This is my You Can Do It! Skill Builder Sampler quilt.
Last summer, around the time that the Skill Builder Sampler started, I knew I was going to do it because I was such a newbie quilter that I needed to do anything possible to build my skills! But I didn't have a plan for fabric or anything like that. Then my mother-in-law mentioned how much she would like it if she had a Christmas quilt, I had ordered a TON of Christmassy fabrics from Connecting Threads (love them!) on clearance, and I thought, yes! Let's do this! 
As we progressed through the various skills, some of the blocks didn't seem to work that well with the rest. I knew I was going to stop at 12 blocks, even though the quilt along went up to 36, because of the size I wanted the quilt to be. So I got to be choosy about what blocks to do. I also didn't end up doing any of the paper-pieced blocks, because my printer won't hook to my computer (stupid non-Mac compatible thing!) and it was too much of a pain. But I ended up with only 9 blocks from the sampler. So I found 3 more that I liked elsewhere, and put the top together! I used 3-inch sashing strips, and used my embroidery machine to do Christmas-themed appliqués scattered through the sashing. 
When I finished the top, including the appliqués, it was the day before we were leaving for Christmas with our families, so I wrapped up the quilt top, backing fabric, and binding, and gave that to my mother-in-law for Christmas. She loved it!
(I don't know why that's sideways…)
So next it was time to quilt! I knew I didn't want an all-over quilting pattern, but I didn't really know what to do. I ended up quilting each block separately, with a different pattern for each. Then I did rows of icicles dangling from the tops of each row of sashing, and holly leaves and berries scattered anywhere it seemed like they were needed. I also outlined each appliqué with quilting. Here are a few close-ups:
I backed the quilt with polka dotted flannel...
and bound it with red and white candy-striped fabric. This was easily the least pleasant binding experience I've ever had. I decided it would be fun to use one of the decorative stitches on my machine to attach the binding. I found a snowflake stitch and started attaching the binding… and it took TEN MILLION YEARS. Worst idea ever. And it doesn't look great, either, but it's next to impossible to rip out, and I just wanted to be done by that point.
(I found an area where it looked reasonably good to take the picture.)
So, that's my project! If you have read all of my ramblings to the very end, thanks SO much for visiting. You should consider stopping by the other posts on the hop this week...
Aug 7
     Liz from What I Did on My Summer Vacation
     Susan from Canadian Abroad

Aug 9
     Kirsten from Gemini Stitches
     Stephanie from Sewing by Stephanie
and thanks for visiting! :)